10 Most Promising SharePoint Solution Providers-2018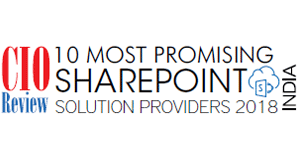 Businesses are increasingly on the lookout to enhance its productivity through organized and streamlined workflow to stay a step ahead in the market. Harnessing the power of online collaboration, the adoption of Microsoft SharePoint solutions expedites productivity and growth in an organization as it assists in process visualization and enables quick decision making thereby saving time and improving accuracy.
In conjunction with these benefits, the integrated platform delivers a simple and easy user experience, simplifies everyday business objectives, helps meet regulatory requirements, effectively manages and repurposes content, offers better access to data without divulging sensitive information and accelerates shared business processes. The aforementioned benefits undoubtedly place SharePoint amidst the highest ranks in this sector that propel the wheels of collaboration and agility in an organization.
Perfectly understanding the benefits associated with the implementation of such solutions, businesses are now in search of expert solution providers that successfully leverage SharePoint to seamlessly integrate the processes and documents onto the single platform. Assisting key stakeholders of a company to locate the right SharePoint solution provider, CIOReview comes to the aid with an exhaustive list of "10 Most Promising SharePoint Solution Providers". This list displays the leading solution providers in this domain with a proven track record that facilitates customers with best-in-class SharePoint solutions used for data storage, document management and collaboration across a gamut of enterprise environments. An advisory board of renowned CEOs, CIOs, industry analysts and the CIOReview editorial finalized the list of vendors who in our opinion possess the right combination of industry expertise and technology thereby achieving high levels of customer satisfaction.
We present to you CIOTechOutlook 10 Most Promising SharePoint Solution Providers-2018.
Top SharePoint Solution Providers
| | |
| --- | --- |
| Adapt Software | Provider of clinical software solutions, healthcare analytics and digital marketing services. |
| Adapt Solutions | Provider of SharePoint Application Platform |
| Aufait | Provider of custom SharePoint development services |
| Congruent | Provider of SharePoint consulting services |
| IOTAP | Provider of SharePoint solutions and services |
| Nepheloapps Technologies | Provider of custom software development services in SharePoint |
| NGenious Solutions | Provider of SharePoint solutions and services |
| Sengen Software | Provider of software and services including Business Intelligence applications, Microsoft Dynamics CRM, SharePoint, and more |
| Trigent Software | Provider of SharePoint consulting and development services |
| TSInfo Technologies | Provider of SharePoint development services |